Staff
Director of University Advisement
Laura Valdez
Email:lvaldez@unm.edu
Laura grew up in Coyote, NM then moved to Albuquerque and never left.  She is a first generation college student, but followed her two brothers and two sisters in pursuing a college education.  Fresh out of college, Laura began working for a TRiO Program, LULAC National Educational Service Center, which solidified her career path as she was hooked on helping students attain a college education.  She then started her career at UNM as a recruiter visiting high schools and planning campus visitation programs like Senior Day. She then moved departments and worked in the Dean of Students Office (DOSO)for 17 years. Her work in DOSO included chairing a campus-wide equity and inclusion committee that provided training and programming for the University.  She established the Family Connection program that is part of New Student Orientation, then later became the New Student Orientation Director.  She moved into the advising world in 2010 when she accepted the role as the Manager of the University College Advisement Center (UCAC). At the time, UCAC was the largest advising center primarily serving new students. Her current work in the Office of Advising Strategies includes providing training and professional development for the advisors, assessing advising services, and ensuring advisors have tools and resources to best serve students. 
Laura holds a Master of Arts degree in Communication and Journalism and Bachelor of Arts degree in Speech Communication, both from the University of New Mexico. She has been involved in professional associations such as NASPA Student Affairs Administrators in Higher Education and NODA Association for Orientation, Transition, and Retention in Higher Education.  Her hobbies include gardening and baking.
---
LoboAchieve Coordinator
Sarah Nezzer
Email:snezzer@unm.edu
Sarah was born in Pennsylvania. After a sojourn across the US that included New Mexico, she returned to Albuquerque to attend UNM.  She began as a student employee with the DARS Transfer Team. After graduation, she remained at UNM, becoming an advisor at the University College Advisement Center. When the Office of Advising Strategies was created, Sarah was hired to manage the LoboAchieve Advising platform.  She now continues to oversee LoboAchieve's database management, performs data research and triage,  and works with the Director of Advising Strategies on researching and conducting assessment in the UNM advisement community.
Sarah is a First Generation student who received her Bachelors in History and Religious Studies. After exploring many graduate programs, she is currently pursuing her Masters in Public Administration. In her free time she enjoys reading a little of everything, gaming, watching cooking shows, and researching trends in Higher Education.
Dual Credit Coordinator
Dee Dee Hatch-Sanders
Email:dhatchsanders@unm.edu
Dee Dee has lived in Albuquerque the majority of her life since her father was stationed at Kirtland AFB while in elementary school.  She has also lived in Great Britain, Colorado, Wisconsin and North Carolina as an adult.
Dee Dee's past work experience includes working as an Accounts Payable/Administrative Administrator for over 14 years with URS Consulting Engineering.  Her current responsibilities are to work closely with high school students, advisors and administrators. She is responsible for managing and implementing the Dual Credit and Concurrent Enrollment Program. Dee Dee serves as a liaison between the Office of Advising Strategies, Admissions Office, and secondary institutions to implement the Dual Credit Program at UNM. She also assists in securing Master Agreement contracts with statewide secondary institutions, and advising students interested in taking courses through the Dual Credit or Concurrent Enrollment Program. She registers, drops, or changes dual enrollment students in the dual enrollment program. On top of that, she tracks the progress including grades and to ensure students are meeting class participation requirements of all high school students in the program. Developing, maintaining, and marketing promotional materials are all part of her duties, as well as attending high school recruitment events. She provides individual advisement and college pre-planning for student success.
Dee Dee has a BA in University Studies from the University of New Mexico, and a MAOM-in Organizational Management from the University of Phoenix.  She loves working with arts and craft projects, and is very active with church and community service activities. She has been a member of Alpha Kappa Alpha Sorority, Inc. for over 37 years.
Academic Advisor Training Coordinator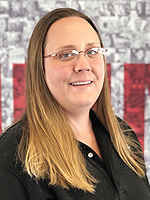 Shannon Saavedra
Email:shein@unm.edu
Shannon was born and raised in Albuquerque, NM and is a proud Sandia High School graduate. Her father worked for UNM for 30 years, which allowed Shannon to get to know UNM and become a Lobo well before entering as a freshman after high school. As an undergraduate student she had the opportunity to work as a student employee with the College of Pharmacy, which allowed her to gain experience in the advisement at UNM. In 2005 she started as a full time academic advisor in the University College Advisement Center (UCAC). While working as an advisor in UCAC she worked with a large variety and population of students.
After completing her master's degree she became the academic advisor trainer for all undergraduate advisors at UNM. In this position she develops and maintains synchronous and asynchronous new advisor training and professional development. She has been actively involved in her professional association by planning NACADA Region 10 conferences.
Shannon has a Bachelor's of Business Administration in Human Resources and a Masers of Arts in Organizational Learning and Instructional Technology. Outside of work Shannon is an active volunteer with Girl Scouts which allows her to work with Albuquerque youth and in helping lp them develop a foundation for becoming a strong women.
Educational Support Coordinator
Deyanira Nunez
Email:deydeyez@unm.edu
Deyanira was born and raised in Albuquerque, NM and was the first in her family to attend college and earn a Bachelor of Arts degree in Spanish from UNM. She began in higher education as a student working with Student Support Services-TRiO, the College Enrichment Program, and the College Prep Program. She has been involved with the NASPA professional organization as a student fellow for the NASPA Undergraduate Fellows Program and participated in the Office of Student Affairs (OSA) Fellowship Program. After graduating in 2016, Deyanira was a course coordinator with OSA until 2018 and thereafter joined the Office of Advising Strategies team. She coordinates and manages the online Dual Credit orientation and Academic Success Workshop courses and work with the dual credit coordinator to review applications and materials. She is also part of the LoboAchieve team and work with system related issues and reports. 
Outside of her role as staff, she is a board member and dancer with the Ballet Folklorico Fiesta Mexicana dance company, volunteers in the community with the UNM Young Alumni's Community Service and Philanthropy committee, and volunteers on-campus at different UNM events.
---
Student Employees
 
Nicole Burciaga 
Nicole Burciaga is a 2nd year student at UNM. She moved to Albuquerque from Sunland Park, a small city on the border of NM and TX, to get a better education at the school she fell in love with as a kid. She is a Sign Language Interpreting major with a double major in Spanish. Nicole is here to help students find their way around campus and make sure everything in the office is running smoothly. From making sure there are enough supplies, to assisting anyone in the office that needs an extra pair of hands. During her free time, she enjoys exploring different types of food and attending any Deaf events that are close by with her friends. 

Audrey Garcia
Audrey was born and raised in Albuquerque. She is a sophomore at UNM and is double majoring in Biology and Spanish. Before working for OAS, she worked at Nusenda Credit Union as a Teller, and a few fast food places before that. Now, at OAS, Audrey helps students and alumni find important resources for a successful experience at UNM. During her free time, Audrey enjoys drawing, spending time with her grandparents, and volunteering at Hawthorne Elementary. Throughout her life she was a Girl Scout for twelve years, which allowed her to network with many people and travel throughout the U.S and parts of Europe.