2017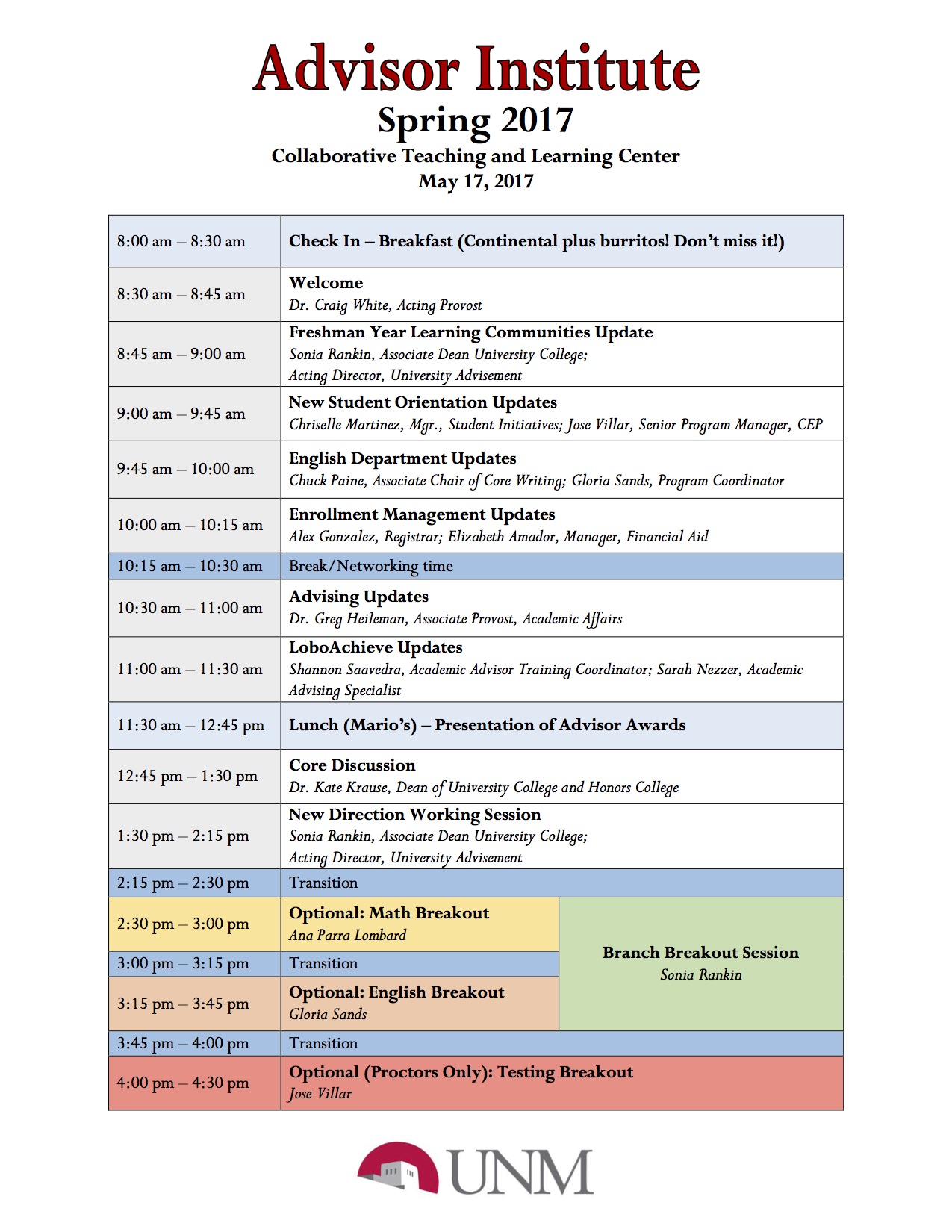 Additional Handouts
Math Override Optional Breakout
English Override Optional Breakout
Fall 2018
September 18, 2017
Student Union Building, University of New Mexico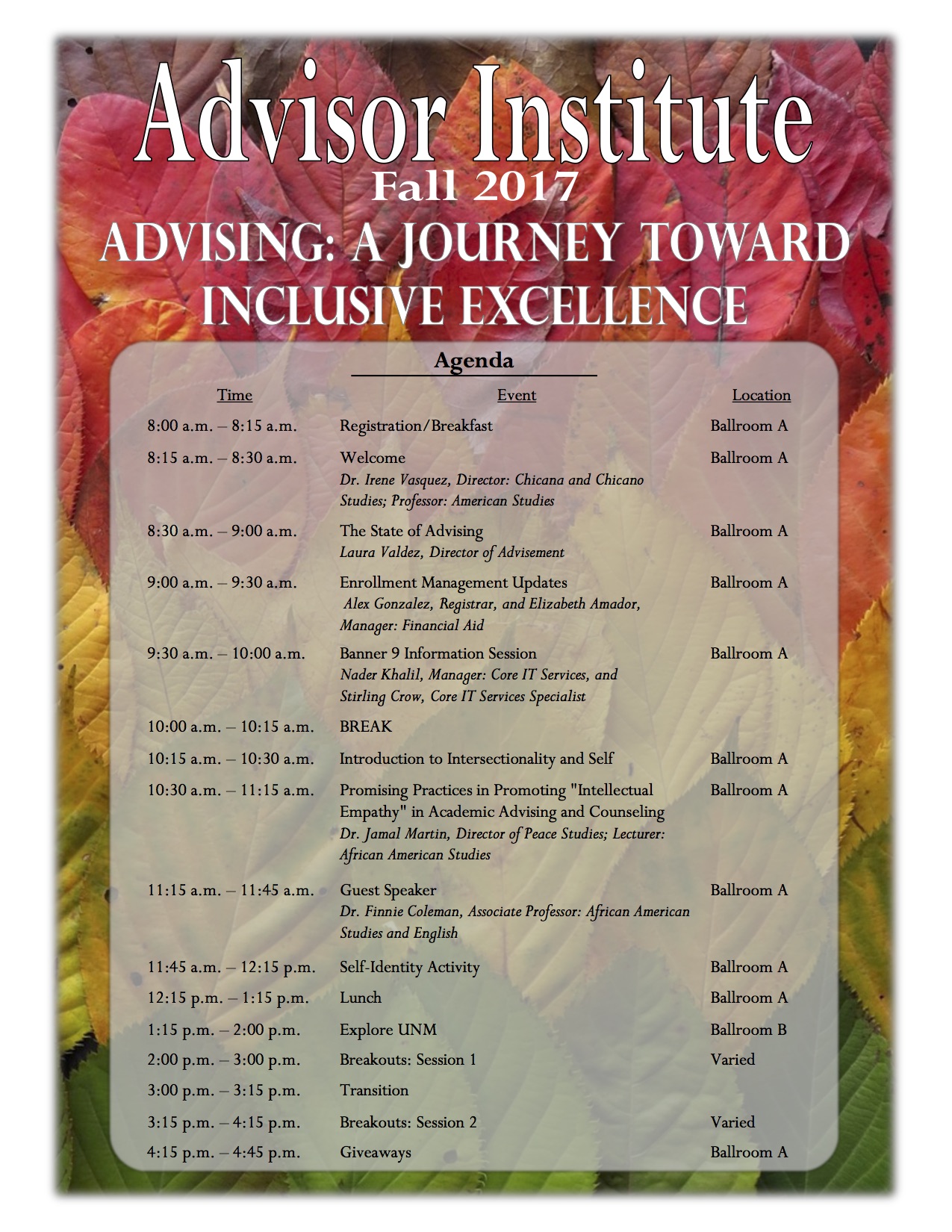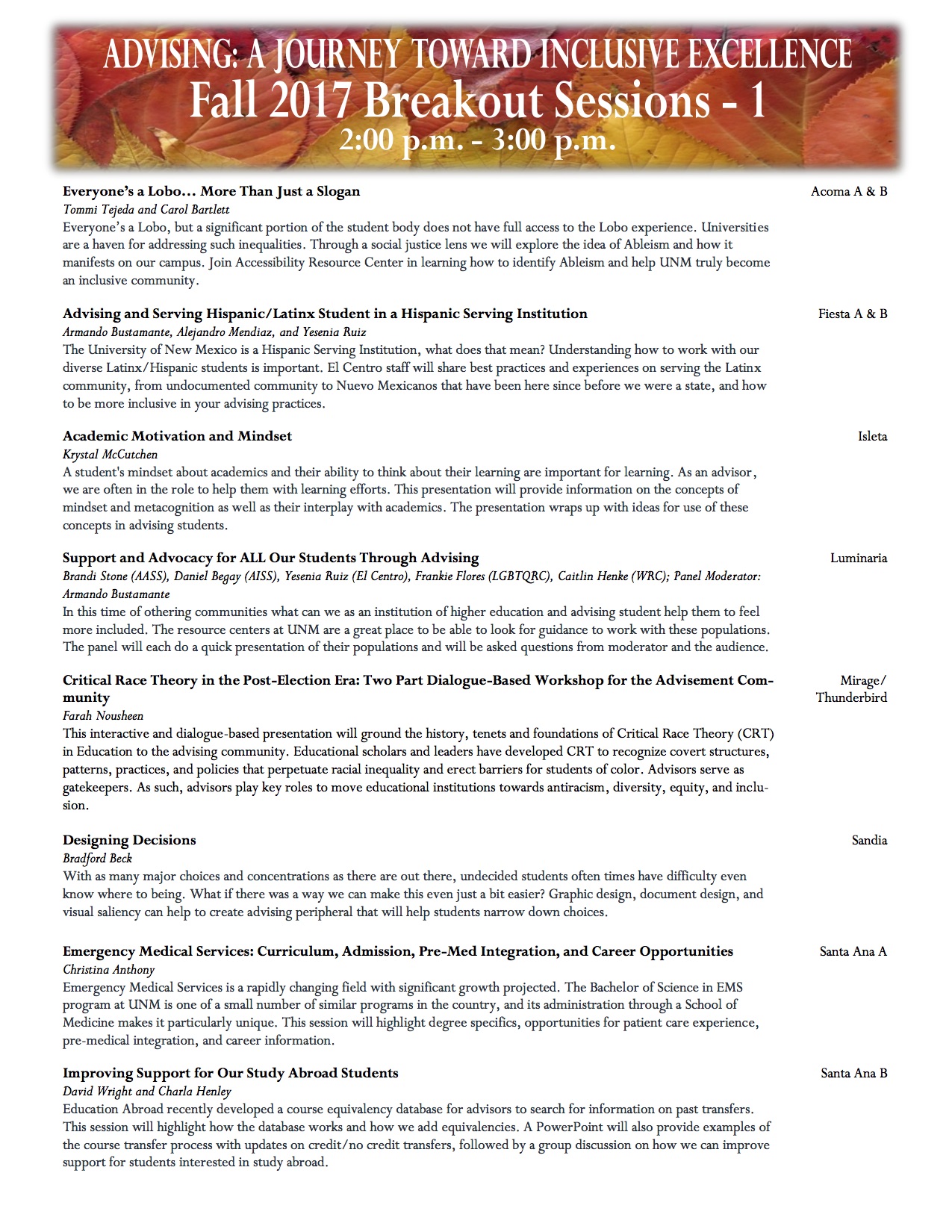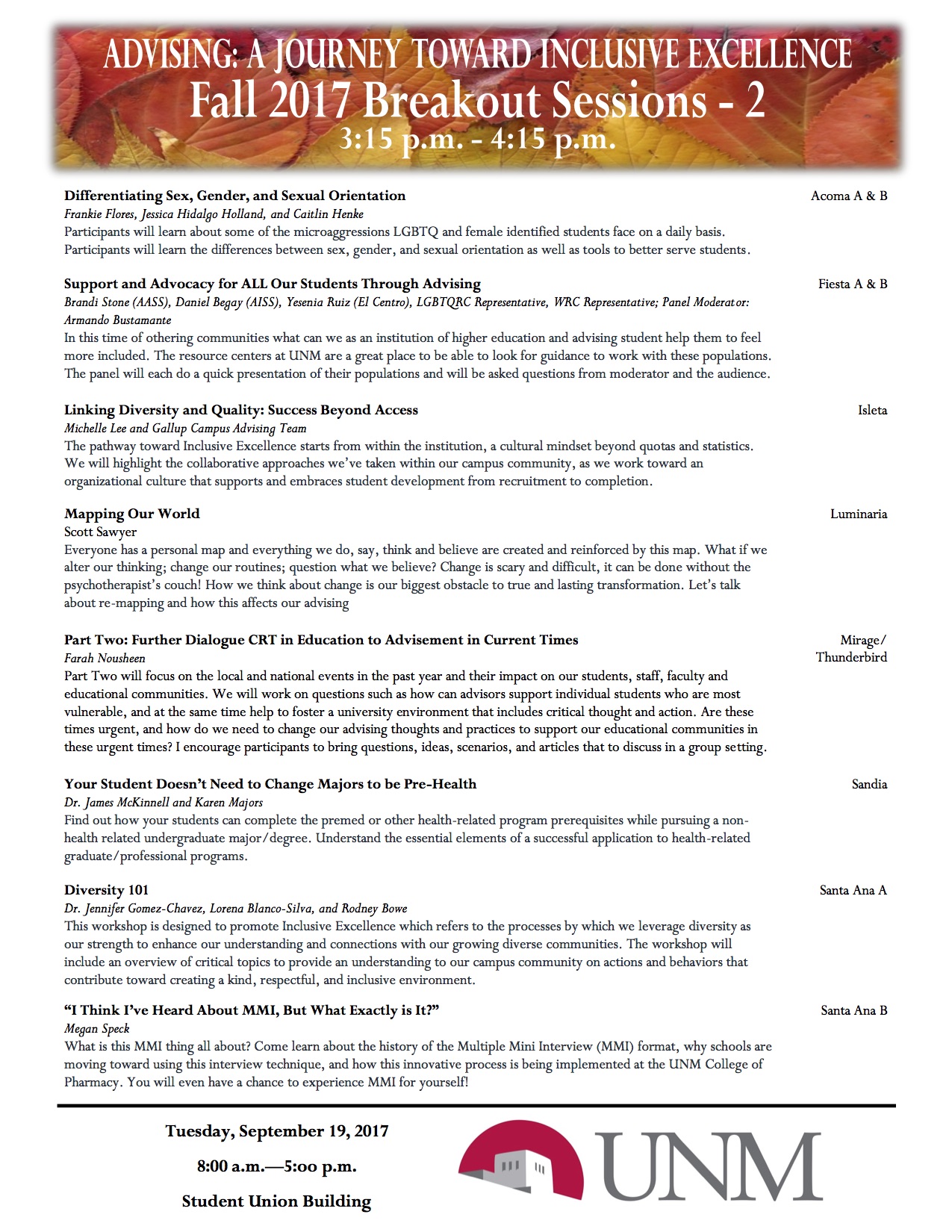 Improving Support for Our Study Abroad Students - ppt, handout
"I Think I've Heard About MMI, But What Exactly is It?" ppt
Suggested Reading
Readings for Diversity and Social Justice New York ; London: Routledge 2000
For over ten years, Readings for Diversity and Social Justice has been the go-toanthology for the broadest possible coverage of issues related to identity and oppression from a social justice perspective. This highly-anticipated second edition breaks even further ground, boasting over 40 more readings than previously available, updated and original section introductions, and three entirely new chapter sectionson Religious Oppression, Transgender Oppression, and Ageism/Adultism. As with the first edition, each chapter section is divided into Contexts, Personal Voices, and Next Steps. The first two parts provide vivid portraits of the meaning of diversity and the realities of oppression. The third part challenges the reader to take action to end oppressive behavior and affirm diversity and social justice.
---
Teaching for Diversity and Social Justice : A Sourcebook New York: Routledge 1997
For nearly a decade, Teaching for Diversity and Social Justice has been the definitive sourcebook of theoretical foundations and curricular frameworks for social justice teaching practice. This thoroughly revised second edition continues to provide teachers and facilitators with an accessible pedagogical approach to issues of oppression in classrooms. Building on the groundswell of interest in social justice education, the second edition offers coverage of current issues and controversies while preserving the hands-on format and inclusive content of the original. Teaching for Diversity and Social Justice presents a well-constructed foundation for engaging the complex and often daunting problems of discrimination and inequality in American society.
---
Ouch! That Stereotype Hurts : Communicating Respectfuly in a Diverse World Dallas, TX 2006
These professionally produced modules available for purchase through most outlets and include the video with various formats to run the course, handout templates, course materials, and the coaching instructions. This course has drawn hundreds of University and Health System employees at our Annual conference each year. Talent Management and Organizational Development has also begun to offer this course through their catalog sessions.
---
The Nature of Prejudice Reading, Massachusetts: Addison-Wesley 1979
---
How Men Feel New York: Anchor Press, 1988
---
Women's Ways of Knowing New York: Basic Books, 1986
---
Looking at Gay and Lesbian Life Boston: Beacon Press, 1988
---
Bury My Heart at Wounded Knee New York: Holt, Rinehart & Winston, 1970
---
Cultural Communications Guide Cook-Ross Inc. 2010
This little book is packed with information on 13 major cultures and their interpersonal, work, and communications styles. It is provided as information and not as a stereotypical "cookbook". Authors firmly state that cultural patterns are not universal, and each person is unique and individual within the context of their own culture.
---
The Promise of Diversity Ridge, IL: Irwin Publishing/NTL Institute, 1994
---
Cultural Competency [Video/DVD] Virginia Beach, Va.: Coastal Training Technologies Corp. 2007
Explains ways in which health care workers can provide culturally competent healthcare to ethnic minorities. Topics include respecting patients' cultural and religious preferences, avoiding stereotypes, and conducting a cultural assessment.
---
DiversityWeb - A Resource Hub for Higher Education A project of AAC&U's Office of Diversity, Equity, and Global Initiatives (ODEGI) 2011
Central to the office's mission is the belief that diversity and global knowledge are essential elements of any effort to foster civic engagement among today's college students. To support those goals, the office helps colleges and universities establish diversity as a comprehensive institutional commitment and educational priority. from
http://www.diversityweb.org/
---
Answers to the Mommy Track Far Hills, New Jersey: New Horizon Press 1991
---
Racism and Sexism in Corporate Life Lexington, Massachusetts: Lexington Books, 1981
---
Choosing Civility : The Twenty-Five Rules of Considerate Conduct (1st ed.) New York: St. Martin's Press 2002
To live a long, healthy and serene life we need the crucial help of a network of caring people – we need social support. In order to gain and keep social support we need social skills. Choosing Civility re-discovers and expounds the essential skills that allow us to live well among others.
---
The Civility Solution : What To Do When People Are Rude (1st ed.) New York: St. Martin's Press 2008
"Many of us find ourselves confronted with rudeness every day and don't know how to respond. From the intrusive cell-phone user who holds loud conversations in public to the hostile highway driver who cuts one off with a quick swerve of his car, politeness seems to be on a downward spiral, surprising us at every turn. P. M. Forni, the author of Choosing Civility, has the answer. He knows that rudeness begets rudeness, and in The Civility Solution he shows us what to do when confronted with bad behavior by being assertive as well as civil. In more than one hundred different situations, he shows us how to break the rudeness cycle by responding to a variety of confrontations, from bullying to rude Internet behavior or the hurtful words of an insensitive family member."--BOOK JACKET.
---
Managing Diversity : A Complete Desk Reference and Planning Guide Homewood, Ill; San Diego: Business One Irwin; Pfeiffer & Co. 1993
These two authors are the originators of the Four Layers of Diversity "Diversity Wheel" we use in our philosophy. This book and DVD could easily be called the "bible" for diversity practitioners with articles, forms, templates, resources and activities in reproducible format. It's pricey, about $129, but when you consider how much it costs to buy just one of the programs, it's worth its weight (about 2-4 pounds) in gold.
---
Civility Website 2011
Dr. P.M. Forni, a professor at Johns Hopkins University, co-founded the Johns Hopkins Civility Project in 1997. An aggregation of academic and community outreach activities, the JHCP aimed at assessing the significance of civility, manners and politeness in contemporary society. The JHCP has been reconstituted as The Civility Initiative at Johns Hopkins, which Dr. Forni now directs. This Web site is designed to introduce Dr. Forni's work on civility and to offer links to related material.
http://krieger.jhu.edu/civility
---
Colored People, a Memoir New York: Vintage Books (Random House), 1994
---
In a Different Voice Cambridge, MA: Harvard University Press, 1993
---
Two Nations: Black and White, Separate, Hostile, Unequal New York: Charles Scribners Sons, 1992
---
Beyond Culture New York: Anchor Books (Random House), 1989
---
The Hidden Dimension New York: Nacor Books (Doubleday), 1982
---
Managing Cultural Differences Houston: Gulf Publications, 1991
---
Ain't I A Woman: Black Women and Feminism Boston: South End Press, 1987
---
White Awareness: A Handbook for Anti-Racism Norman, Oklahoma: University of Oklahoma Press, 1978
---
Uprooting Racism: How White People Can Work for Racial Justice Gabriola Island, British Columbia: New Society Publishers, 1996
---
Ain't I a Woman! New York: Random House, 1993
---
Feminine Leadership or How to Succeed in Business Without Being One of the Boys New York: Times Books, 1985
---
Workforce America! Managing Employee Diversity as a Vital Resource Homewood, Illinois: Business One Irwin, 1991
---
White Bucks and Black-Eyed Peas New York : Scribner, 1995
---
Enemies: The Clash of Races Chicago, Illinois: Third World Press, 1978
---
On Being Gay New York: St. Martin's Press, 1988
---
The Chicano Experience: An Alternative Perspective South Bend, Indiana: Notre Dame University Press, 1985
---
Japanese Society Rutland, Vermont: Charles Tuttle Publishers, 1989
---
Diversity Principles: Strategic Integration SHRM Inc. 2010
Focuses on how to develop the business case for diversity and how to do the strategic planning required to become a contributor to the organization's profitability and sustainability.
---
A Class Divided Yale University. Films, WGBH Educational Foundation, Wgbh and PBS DVD Video (Directors). (2003; 1985, 19850326).[Video/DVD] Alexandria, VA: PBS DVD Video.
In 1968, after the assassination of Martin Luther King, Jane Elliott, a public school teacher in Riceville, Iowa, divided her all-white third-graders into blue-eyed and brown-eyed groups for a lesson in discrimination. On successive days, each group was treated as inferior and subjected to discrimination. A 1970 documentary, Eye of the storm, presented this experiment on television. This documentary reunites the teacher and students 15 years after the experiment to analyze its enduring effects.
---
Homophobia: A Weapon of Sexism Inverness, California: Chardon Press, 1988
---
Not in My Neighborhood : How Bigotry Shaped a Great American City Chicago: Ivan R. Dee. 2010
Eugenics, racial thinking, and white supremacist attitudes influenced even the federal government's actions toward housing in the 20th century, dooming American cities to ghettoization. The Federal Housing Administration continued discriminatory housing policies even into the 1960s, long after civil rights legislation. This all-American tale is told through the prism of Baltimore, from its early suburbanization in the 1880s to the consequences of white flight after World War II, and into the first decade of the twenty-first century. The events are real, and so are the heroes and villains. Mr. Pietila's narrative centers on the human side of residential real estate practices, whose discriminatory tools were the same everywhere: restrictive covenants, redlining, blockbusting, and predatory lending.
---
Race California Newsreel and Independent Television Service (Directors). [Video/DVD] San Francisco, Calif.: California Newsreel 2003
Episode one explores how recent scientific discoveries have toppled the concept of biological race. Episode two questions the belief that race has always been with us. It traces the race concept to the European conquest of the Americas. Episode three focuses on how our institutions shape and create race.
---
Managing the Organizational Melting Pot Sage Publications: Thousand Oaks, CA, 1997
---
Black Women Beverly Hills, California: Sage Publications, 1983
---
Blaming the Victim New York: Vintage Books, 1976
---
Multi-Cultural Literacy: Opening the American Mind St. Paul MN: Graywolf Publications, 1988
---
The Immortal Life of Henrietta Lacks (1st ed.) New York: Crown Publishers 2010
Her name was Henrietta Lacks, but scientists know her as HeLa. She was a poor Southern tobacco farmer, yet her cells--taken without her knowledge--became one of the most important tools in medicine. The first "immortal" human cells grown in culture, they are still alive today, though she has been dead for more than sixty years. HeLa cells were vital for developing the polio vaccine; uncovered secrets of cancer and viruses; helped lead to in vitro fertilization, cloning, and gene mapping; and have been bought and sold by the billions. Yet Henrietta Lacks is buried in an unmarked grave. Her family did not learn of her "immortality" until more than twenty years after her death, when scientists began using her husband and children in research without informed consent. The story of the Lacks family is inextricably connected to the dark history of experimentation on African Americans, the birth of bioethics, and the legal battles over whether we control the stuff we are made of.
---
The Ethnic Myth Boston: Beacon Press, 1989
---
By the Color of Our Skin: The Illusion of Integration and the Reality of Race New York: Dutton Books, 1999
---
That's Not What I Meant! New York: Ballantine Books, 1986
---
You Just Don't Understand: Women and Men in Conversation New York, Ballantine Books, 1991
---
Why are all the Black kids sitting together in the cafeteria?": and Other Conversations about Race New York: Basic Books 2003
Defining racism, "Can we talk?" -- The complexity of identity, "Who am I?" -- Understanding blackness in a white context. The early years, "Is my skin brown because I drink chocolate milk?" -- Identity development in adolescence, "Why are all the black kids sitting together in the cafeteria?" -- Racial identity in adulthood, "Still a work in progress ..." -- Understanding whiteness in a white context. The development of white identity, "I'm not ethnic, I'm just normal" -- White identity and affirmative action, "I'm in favor of affirmative action except when it comes to my jobs" -- Beyond black and white. Critical issues in Latino, American Indian, and Asian Pacific American identity development, "There's more than just black and white, you know" -- Identity development in multiracial families, "But don't the children suffer?" -- Breaking the silence. Embracing a cross-racial dialogue, "We were struggling for the words" -- Epilogue 2003: Continuing the conversation -- Appendix. Getting started: a resource guide -- Reader discussion guide.; With a discussion guide and a new Epilogue by the author, this is the fifth anniversary edition of the bestselling work on the development of racial identity. Shares real-life examples and current research that support the author's recommendations for "straight talk" about racial identity, identifying practices that contribute to self-segregation in childhood groups.
---
Race: How Blacks & Whites Think & Feel About The American Obsession New York: The New Press, 1992
---
Breaking Through: The Making of Minority Executives in Corporate America Boston, Massachusetts: Harvard Business School Press, 1999
---
Building on the Promise of Diversity : How We Can Move to the Next Level in Our Workplaces, Our Communities, and Our Society New York: AMACOM, American Management Association 2006
How we can move to the next level in our workplaces, our communities, and our society.
---
Beyond Race and Gender: Unleashing the Power of Your Total Work Force by Managing Diversity New York: AMACOM, 1991
---
Another Look Des Moines, IA: VisionPoint Productions, Inc. 2006
Today most hospitals are understaffed, so all staff members play critical roles in ensuring compassionate and effective healthcare. This video is designed for healthcare professionals and trainers to conduct high-impact training in just 60 minutes, allowing staff to receive critical training and return to the floor quickly. Do you really know how your patients and coworkers define respect? This compelling program immerses participants in a unique learning experience that explores how unconscious mindsets and hidden biases affect both patient and coworker interactions. It outlines a straightforward protocol that can be used to help avoid or resolve situations before they negatively affect quality of care.
---
Book of the Hopi New York: Ballantine Books: 1963
---
Eyes on the Prize New York: Viking Press, 1987
---
Women's Reality New York: Harper & Row, 1985